Oratory and Youth Centers
The original nature of the Salesian Oratory
The Oratory of St Francis of Sales at Valdocco was the first established apostolate, the one that inspired all the others. The educational environment initiated by Don Bosco in the Oratory was a pastoral response to the needs of adolescents and older youth especially the neediest, in the city of Turin. It offered them healthy recreation, together with catechism, elementary education and employable skills for life. Don Bosco knew how to provide Christian formation to young people who were faced with pressing educational challenges.
Don Bosco's personal touch initiated at the Oratory originated an effective praxis which was to be the lasting criteria for prevention applied down through the years:
◗ from a basic catechism lesson to a presence and participation in the life of the young with special attention to their needs, problems and opportunities;
◗ from a part-time festive (weekend) oratory to a full-time home extending throughout the week through personal contacts and other complementary activities;
◗ from the teaching of catechetical content to a systematic educative and pastoral program, the Preventive System;
◗ from services thought out for the young to a family style presence of educators in the midst of the young in their recreational and religious activities;
◗ from a referential institution for adults to community living with young people, youthful involvement, a community open to all;
◗ from the primacy of the program to the primacy of the person and of interpersonal relationships;
◗ from a parish focused on worship and devotion to the missionary impulse of a youthful community open to young people who neither know nor find any reference in that parish.
This enthusiasm of the Preventive System aroused in young people the desire to grow and mature, passing from the immediate needs of entertainment and education to more systematic and deep commitment to human and Christian formation. They learned from their involvement in activities how to take a leading role in activities, be animators in an educational environment at the service of their companions.
Don Bosco's Oratory is at the very origin of all the Salesian work and constitutes its prototype. It inspires all the different evangelizing projects and services of the Salesian mission (cf. C. 40).
---
DON BOSCO YOUTH CENTER – Borongan
Taboc, Borongan, Eastern Samar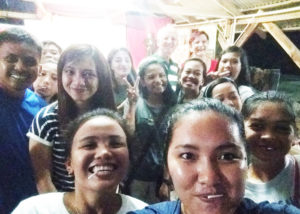 Primary Service: Youth Center and Youth Campus Ministry
Training Center
Youth Center and Youth Campus Ministry
Don Bosco-Borongan maintains a youth center and administers the Youth Campus Ministry to 59 sections of the Eastern Samar National Comprehensive High School and 15 sections of the Bato Elementary School with the assistance of 20 volunteer catechists It also holds regular leadership and formation trainings to various youth groups in the school and the locality such the religious education program for the town's elementary schools and high school; Youth Encounters and Leadership Training Programs for school-based and community-based youth groups.
☎ + 63 (055) 560-9850
---
DON BOSCO TECHNICAL COLLEGE – DBYC
Pleasant Homes Subdivision, Punta Princesa, Cebu City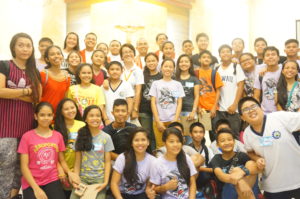 Primary Services: Elementary and Technical High School
Skills Training Center(STP) for Out of School Youth
Technician's Center and Technician Teachers' College
College of Engineering
Youth Center
Don Bosco Balamban
Don Bosco Youth Center (DBYC)
Every Sunday afternoon, liturgical services are made available to the people within the neighborhood. The festive oratory characterized by games, cultural activities and catechism follow the 2:00pm mass at the Don Bosco chapel headed by the Spiritual Moderator of the Basic Education Department with the assistance of the brothers in practical training and the youth leaders of the area.
☎ +63 (032) 273-1127 to 33 Trunkline
☎ +63 (032) 273-2302 College
☎ +63 (032) 414-3433 Administrator
☎ +63 (032) 273-8444 TVET
---
DON BOSCO YOUTH CENTER – Dumangas
P.D Monfort South
5006 Dumangas, Iloilo
Primary Service: Vocational Training Center-Boys' Home
Campus Ministry
Youth Center
☎ + 63 (033) 361-2500 FAX Office
---
DON BOSCO YOUTH CENTER – Liloan
Cotcot, Liloan, Cebu
6000 Cebu City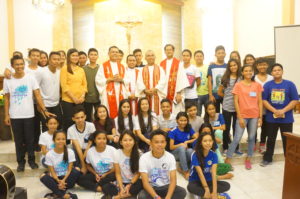 Primary Services: Technical Training Center
Residential Home and Assistance for Children in Need of Special Protection
Oratory-Youth Center
☎ + 63 (032) 424-7002 Boys' Home/ Administrator
☎ + 63 (032) 424-7003 Training Center
☎ + 63 (0920) 9206481 Rector
---
DON BOSCO YOUTH CENTER – Lourdes
F Llamas St. Punta Princesa
6000 Cebu City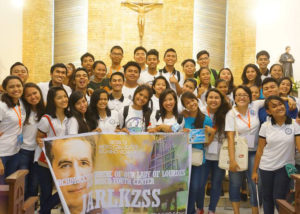 Primary Service: Parish
Oratory and Youth Center
Kindergarten
Training Center
School Services
Social Services
☎ + 63 (032) 261-5393 Trunkline
📠+ 63 (032) 261-5395 FAX
☎ + 63 (032) 262-0025 – Accounting
☎ + 63 (032) 261-6935 Parish Pastoral Office
☎ + 63 (032) 260-3794 Don Bosco Youth Center
☎ + 63 (032) 414-3048 Lourdes Kindergarten School
☎ + 63 (032) 418-8022 Family &Life Center
☎ + 63 (032) 261-5344 Lourdes Shrine Clinic
---
DON BOSCO YOUTH CENTER – Mambucal
Mambucal, Murcia, Negros Occidental
Primary Service: Parish
Retreat House
Social Work
---
DON BOSCO YOUTH CENTER -Pasil
L. Flores Street, Pasil, Cebu City
6000 Cebu City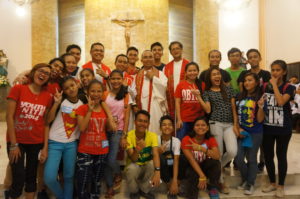 Primary Service: Parish
Training Center
Youth Center
Social Services
Youth Center Youth signifies hope and promise for the future. But this hope and promise cannot be realized if the youth of today are not properly trained and educated to meet life's challenges and difficulties. Idleness with poverty as a result of being an out-of-school has forced the young people of Pasil to engage in drug addiction and in crimes.
Social Services
Through Don Bosco Youth Center, Don Bosco Pasil provides social services to the children, the youth and the families in the area through the following: Nutrition Program, Scholarship Program, Medical and Dental Assistance, Free Clinic Program, Loan Assistance Program and the Daily Oratory. Don Bosco Pasil serves over 1,500 individuals through these social services and nearly 500 families.
☎ + 63 (032) 261-00-62 Parish
☎ + 63 (032) 261-00-10 Youth Center
📠+ 63 (032) 262-05-33 FAX
---
DON BOSCO YOUTH CENTER – Victorias
Vicmico, Victorias, Negros Occidental
6119 Negros Occidental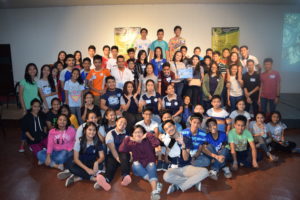 Primary Service: Elementary School and Technical High School
Boarding House
Training Center
Parish
Oratory-Youth Center
📠+ 63 (034) 399-3259 FAX Rector
☎ + 63 (034) 399-3630 Rector
📠+ 63 (034) 399-3631 FAX Shop
📠+ 63 (034) 399-3632 FAX Administration
☎ + 63 (034) 399-3263 HROD
☎ + 63 (034) 399-3227 Center for Social Development
📠+ 63 (034) 398-58-20 FAX Parish