Amazing, Amusing, Inspiring
A Reflection, 28 September 2022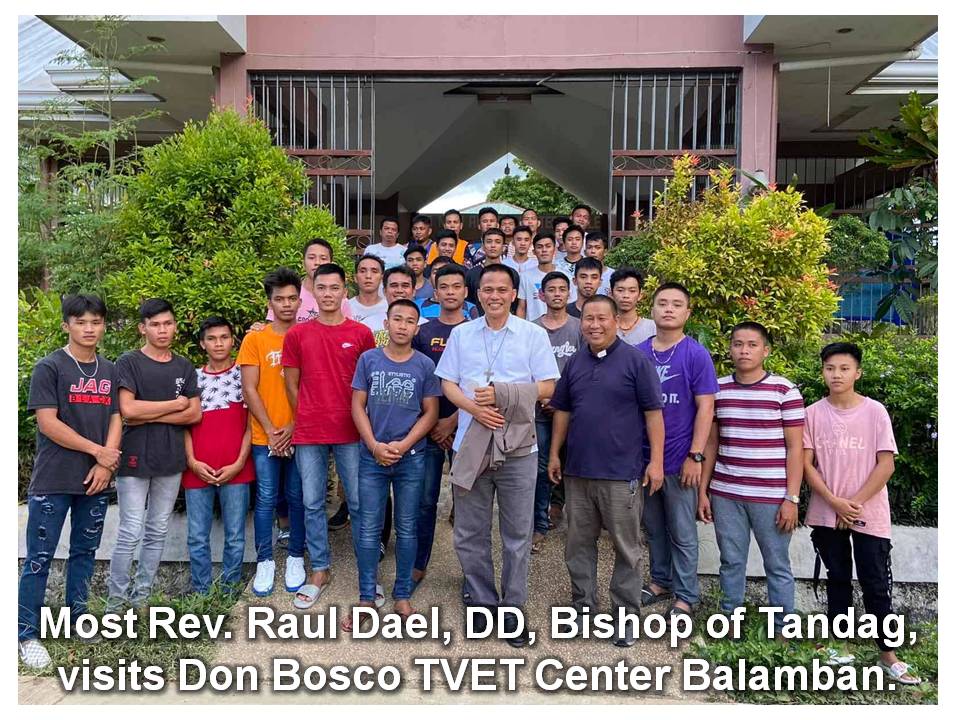 Yesterday, we in Don Bosco TVET Center Balamban were blessed by the short but memorable visit of Most Rev. Raul Dael, Bishop of the Diocese of Tandag (Surigao del Sur). Just three days ago his Spirit-filled homily impressed the four of us, Salesian priests, who concelebrated in his ninth day Novena Mass at the beautiful Church of St Teresa de Avila in Villadolid, Carcar. Then, yesterday his "Good Afternoon" talk addressed to our trainees and staff amazed us once again and made us wonder how deeply spiritual this man of God might truly be while remaining so down to earth in his thoughts. In fact at dinner time we found ourselves surprisingly entertained and amused by his funny jokes and funny faces too. Fr Brian Butanas, SDB, our TVET Director, quietly remarked to me across the dinner table saying "Parang kamukha siya ni Fr Andy Satura…" After hearing this I gave a quick glance at the face of the bishop and then replied to my confrere "Oo nga. Kaya lang mas refined nga lang siya na version."
Today's liturgy presents to us an amazing God who is both all-powerful at the same time seemingly weak. In the first reading (Job 9:1-12, 14-16), we realize how infinitely powerful God can be according to the experience of Job who has been in search of answers in the midst of overlapping trials and tribulations. Yet at the same time, God has seemingly become weak and powerless in the person of the God-man, Jesus Christ. This is the impression we get from the gospel passage today (Lk 9:57-62). In his own account, St Luke narrates for us the disappointment of Jesus over the hesitation and refusal of some people who were called to follow in the footsteps of the Master. While all of creation obeys God at his command, people dare to turn their backs at his invitation. At the end, however, only those who promptly and willingly follow God's voice will be fit to enter his Kingdom.
As we celebrate today the infinite power of God manifested in the amazing life and inspiring martyrdom of San Lorenzo Ruiz, who courageously embraced suffering and death in Japan for love of Jesus, let us ask the Lord that we too may be like this Filipino Protomartyr, empowered to be his faithful witnesses before others both in life and in death. GiGsss!
Disclaimer: This section of the website is a personal creative writing of the author and does not necessarily reflect the official views, opinion, or policies of the Salesians of Don Bosco – Philippines South Province. For concerns on the content, style, and grammar of this piece, please contact us.