Bosconian Marian Devotee promotes the Entrustment Prayer among fellow Front-liners
by: FIS Social Communications
The beginning of August 2021 sent the City of Cebu in a downward spiral. The delta variant of the COVID-19 virus has reached the city and the cases surged up to critical levels. The medical front-liners, already weary of the year-long battle with the pandemic, braced themselves for this wave crashing down on the health care sector. Anton, a Bosconian, knew his Marian devotion and shared with his fellow nurses and doctors the Entrustment of the Home to Mary Help of Christians prayer.
Anton Ivan Yap is a past pupil of Don Bosco Technical College – Cebu, formerly known as Don Bosco Technology Center. He graduated back in 2003. He took up nursing in college and now works as one of the head nurses in Cebu City Medical Center a government hospital in downtown Cebu City that caters to underprivileged constituents. He and his staff work directly with the COVID ward of the hospital. Knowing that this is a battle better won with the weapons of faith and prayer, he took refuge in the care and protection of our Blessed Mother.
Aside from caring for the sick, Nurse Anton keeps a deep devotion for the saints expressed through promotion of piety through religious images. As the Philippines is predominantly Catholic with a deep devotion for the saints, religious images help the faithful celebrate their faith. Nurse Anton, hosts several of them and lends these images to the Archdiocesan Shrine of Our Lady of Lourdes, a Salesian parish to which he belongs, during feasts and religious processions. Even at work, he organizes masses for the staff and takes care of the image of Our Lady of Lourdes, help of the sick, inside the hospital.
While he and his fellow nurses are equipped with personal protective equipment (PPEs), they personally admitted that not even these could protect them from the ravages of the pandemic. The battle with COVID is not only a medical battle. It also has its emotional and spiritual tolls. Many of the nurses are at the verge of giving up. Long work hours and small pay have been sapping away at their dedication to health care. The constant fear of the virus and of transmitting it to their own families keep them always on the edge. Despite having love for their patients, they admitted that even they too have their limits. They needed a greater love to help them in their battle.
It was providential that the Association of Mary Help of Christians (ADMA) in the Philippines South Province (FIS) recently started their promotion of the Entrustment Prayer. A powerful prayer asking for protection from Mary Help of Christians, the entrustment is a plea for protection from all natural and supernatural evils. It was an apt prayer for families asking for protection from the pandemic. The ADMA has been distributing posters of the prayer among families within and outside the Salesian Family circles.
Securing some copies for his fellow medical workers, Nurse Anton has shared the posters to other CCMC nurses and doctors alike. Many of them immediately put it up in their home altars where their families could pray it together.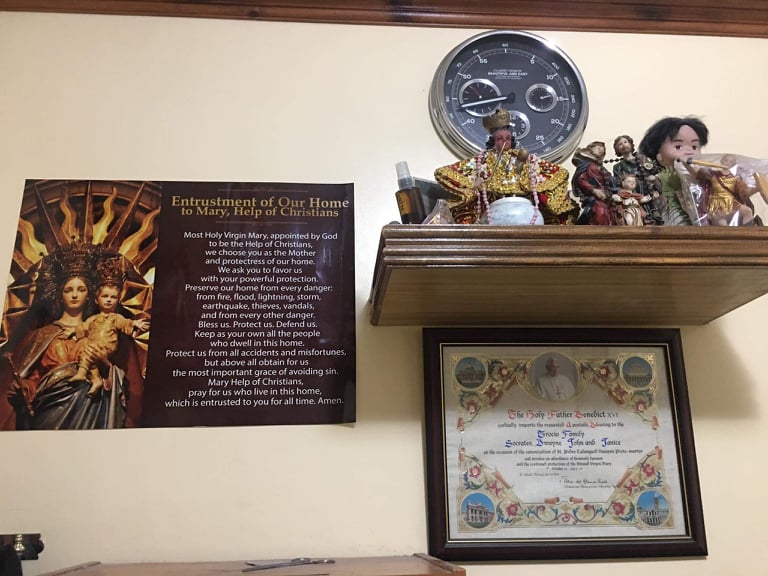 "I was surprised at the turnout of interest in the prayer. Many of my fellow nurses messaged me asking for a copy. My inbox has been filled with requests ever since. It was nice since some of those who asked for the prayer have been lukewarm in their faith or have been wavering. It was comforting to know that many of them immediately put it up in their homes with the faith in the protection of Mary," Anton said.
We chatted with Anton for an interview:
How do you describe yourself as a Marian devotee?
Everyone is not perfect and we always have our flaws, human as we are. I strive hard to imitate the virtues of the Blessed Mother, but the frailty of my Humanity succumbed me to numerous falls. But I always know that despite my sins, the Blessed Virgin is always there as Our True Mother, ever ready to help me stand up again to lead me back to Her Son. Of course, the Recitation of my daily rosary in Latin proved very efficacious in letting me feel the Virgin's presence in my life, always.
Why the ministry of promotion of and devotion through religious images?
Ever since I was still little, I always have a fascination with religious images, sacred statuaries and especially religious processions. As a kid, I ask for small statues of Jesus, Mary and the Saints instead of toys as gifts and arrange them in my little altar and place them in shoe boxes bedecked with flowers from our backyard, and parade them around the house on their feast days. As I grew up and earned my own money, I commissioned processional-sized images of my favorite saints and Marian devotions as my personal collection, and offer them up for Semana Santa processions, for Marian exhibits and displays in churches on their fiestas.
How has the Blessed Mother helped you in your life and work?
I have always felt the presence of the Blessed Virgin Mary, strongly founded on the deep Marian devotion instilled in us during my high school years studying in Don Bosco Technology Center for 4 years. Of course, I have always looked for recourse to the Virgin's intercession for me to pass my Nursing Board Licensure Examinations and now that I am already a Registered Nurse, I recommended the Marian devotion to Our Lady of Lourdes as the Official Patroness of Cebu City Medical Center which I am currently affiliated. I always make sure that Marian devotions are practiced in our hospital, like the daily recitation of the Angelus, observing important Marian feasts and of course, have instituted our hospital fiesta every February 11 wherein we have our healing mass for the sick and our procession of the image of Our Lady of Lourdes joined by all our hospital employees.
There is no end in sight yet for the COVID-19 pandemic. However, with love and devotion for Our Blessed Mother, Nurse Anton and the other health care providers continue to extend the love of God especially to the poor. We also pray with them that they and their families be protected through the powerful intercession of Our Lady Help of Christians.