Five-Step Exercise for a Happy Death
Homily, 33rd Sunday in OT, 13 Nov 2022 – Chapel of the Franciscan Sisters Pro Infante et Familia
Two days ago, for the first time I officiated a wedding at the chapel of the Archbishop's Residence. Upon entering the sanctuary from the side with all the lights switched on, I was impressed by its simple but noble beauty. And since only forty to fifty people can sit comfortably inside I realized why many couples like to hold their weddings in that famous chapel.
Some years ago when we were still planning to build a new chapel for our novitiate, I was brought here by my confrere so that I could have an idea of how our dream chapel could look like. And when I was ushered inside, I was blown away by what I saw. Three things I like very much about this chapel: one, the indigenous materials used for the sanctuary walls and the ceiling; two, the unique diagonal positioning of the altar, and three, the classic wooden doors and the colored sampaguita glassed windows.
Brothers and sisters, we have come to the Thirty-third and last Sunday in Ordinary Time. In the gospel we have heard today Jesus seriously predicts the destruction of the beautiful and majestic temple in Jerusalem, adorned with costly stones and votive offerings. To the Jews admiring its beauty He said, "All that you see here — the days will come when there will not be left a stone upon another stone that will not be thrown down." Jesus' prediction came true. Around forty years later the tragic event truly happened in the year 70 A.D. when the Romans destroyed the temple and the whole city of Jerusalem.
Moreover Jesus also spoke about the trials and tribulations that the world would have to face, such as wars between nations and various calamities like powerful earthquakes, famines and plagues. Aren't these predicted misfortunes happening right before our very eyes today? We have had two world wars within a span of about fifty years, and many of our uncles and grandpas were casualties of that last world war. And who knows, the ongoing war in Ukraine may spark a third one soon. God forbid.
Recently we had been struck by powerful earthquakes; we have seen buildings and churches crumbling down to pieces in Cebu, in Bohol and in other places. Here in our country we have many times suffered the casualties and damages caused by volcanic eruptions, super typhoons and storm surges. In the past decades we have witnessed the spread of AIDS especially in sexually permissive countries as well as the outbreak of various epidemics. Most of all just in these last three years we have been struck and locked down by this Covid pandemic which continue to afflict many of our people until this day. I believe that in speaking about these things Jesus really had a vision of the bleak future ahead of his disciples. And so he wanted them to be prepared telling them to be strong and steadfast in their faith and to persevere until the end. In the light of God's Word we, therefore, ask ourselves at this moment: is our faith today strong enough to withstand all the trials and tribulations of today and those yet to come?
This Sunday is the second to the last in the calendar of the Church. By next week we shall be celebrating the Solemnity of Christ, the King. All these weeks and months we have been blessed and privileged to be walking with Jesus together as a Church, listening reflectively on his words. And so I guess it is high time that we spend some ME time and ask ourselves even more questions "How mature is my faith now? How firmly rooted has it become in God's Word? Have I become a better person in the way I think, I speak, I react, I do things and relate with other people… in the way I live and celebrate my faith as a Catholic? Have I become a little more like Jesus compared to last year, or three years ago before the pandemic struck our world?
We are still in the month of November when we prayerfully remember the faithful departed especially our deceased family members, relatives and friends. But aside from simply praying for their souls and offering Masses for their eternal repose, we are also invited to reflect on our personal lives in preparation for our own death. In so doing we hope and pray that when we will have completed our journey here on earth we will be reunited with them in God's loving embrace for all eternity.
Today, therefore (or on any day this month) I recommend that you spend some quiet time to recollect yourselves whether individually or as a family. In Don Bosco we used to have a striking name for this spiritual recollection, and it is the "Exercise for a Happy Death." Below are the steps proposed by St. John Bosco to his boys: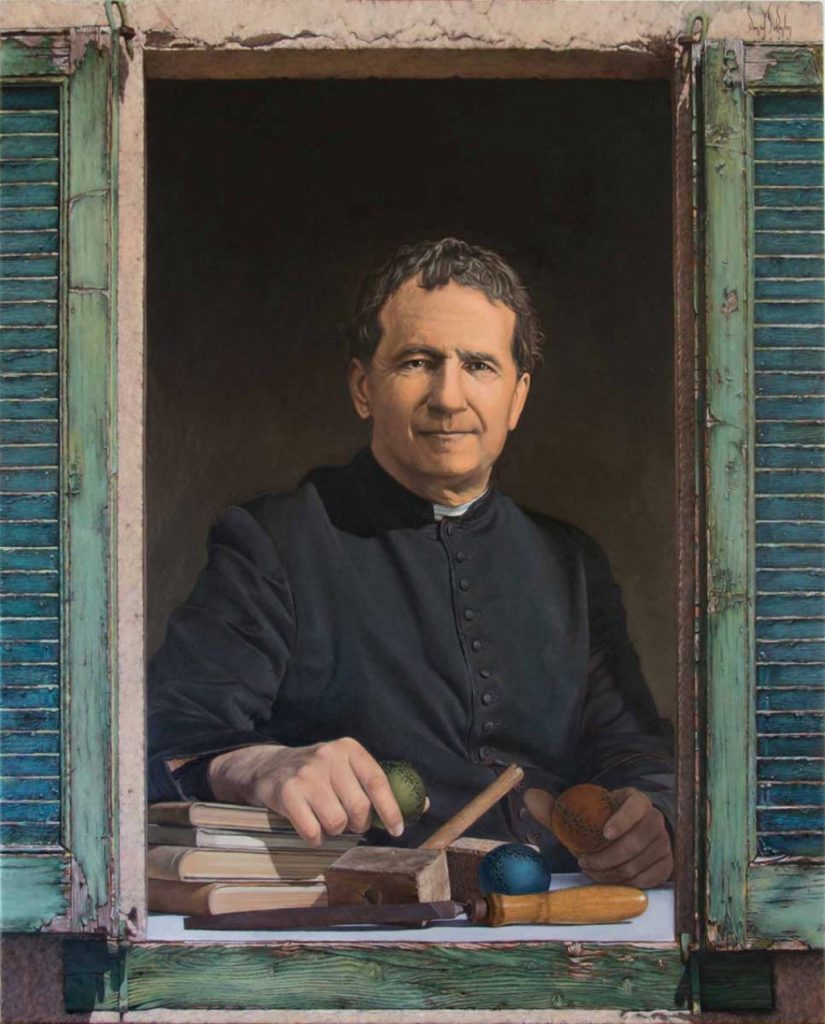 Start with a prayer to the Holy Spirit.
For bigger groups: someone gives a talk on some relevant topic; for individual families: the father or the mother facilitates a sharing on the Gospel passage.
Spend some quiet time for personal examination of conscience followed by Confessions.
Hold a Holy Hour or recite together some devotional prayers like the Holy Rosary or the Chaplet of the Divine Mercy. Include the "Prayers for a Happy Death" and prayers for the intentions of the Holy Father to gain a plenary indulgence.
Participate in the Holy Mass and receive Holy Communion devoutly.
May this Eucharist trigger in us the willingness to spend some quiet moments to reflect and see what changes we still need to work on in our life. We pray too that Christ the King may reign in us, and that as the liturgical year comes to a close, God may open for us a new season two Sundays from now, the beginning of Advent in preparation for Christmas. GiGsss!
Disclaimer: This section of the website is a personal creative writing of the author and does not necessarily reflect the official views, opinion, or policies of the Salesians of Don Bosco – Philippines South Province. For concerns on the content, style, and grammar of this piece, please contact us.