A Little Cycle of Giving
June 12, 2022 – Don Bosco Technical College, Cebu – A select number of primary students came to school with their parents and teachers to hold their outreach to the youth center here in DBTC today. Putting into practice what they learned in the classroom about love of neighbor and concern for others, students from Kindergarten to Grade 3 encountered their kuya's and ate's.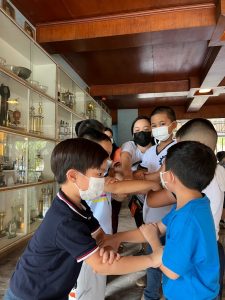 Members of the youth center welcomed the students with a short program and facilitated parlor games for our young Bosconians. After which, the students presented their small gifts and a donation of rice and canned goods for the youth center. The short but meaningful encounter ended with everyone enjoying their afternoon snacks.
Meeting among themselves, the youth center members decided to give the donations together with their own to the victims of yesterday's fire in Punta Princesa.
At around 8:00 PM yesterday, their chat groups have been notifying members of the horrible ordeal of fellow young people from the Youth Center in Lourdes Parish whose homes have also been razed by the fire. Around 800 families have been affected when the conflagration spread among the Sitios Tuburan, Arca, Trinidad, Enriquez, and Merco in Barangay Punta Princesa which in turn is under the Salesian Parish and Shrine of Our Lady of Lourdes.
Since last night, youth have been keeping tabs and now helping their fellow youth.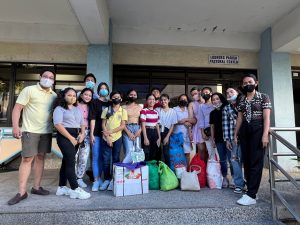 As the youth center had their Sunday mass, they brought with them clothes and a few canned goods that they could spare for the fire victims. "Nobody is so poor he has nothing to give, and nobody is so rich he has nothing to receive," Saint Pope John Paul II's words reminded the young.
After the encounter with the primary students, the youth then proceeded to deliver their donations to the parish office. The social action of Lourdes Parish is still calling for donations as of writing. You may bring your donations to the parish building behind the church.
---