DBTC Youth Center apace with Youthful Activities
Don Bosco Technical College – Cebu – July 31, 2022 – The Youth Center of DBTC resumed their masses at the Chapel of Jesus the Adolescent. This marks a transition from the strict restrictions of the pandemic towards a normal celebration and public worship through the Mass.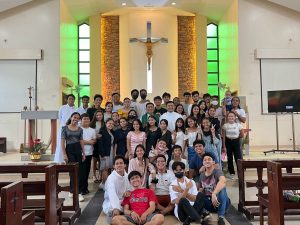 After securing the permission of the parish priest of the Archdiocesan Shrine of Our Lady of Lourdes, Fr. Jhun Paradiang, SDB, the Salesian Community will resume the celebration of Sunday masses open to the public at 7:00 AM (Salesian Family Mass), 9:00 AM (Alumni Mass), and 2:00 PM (Youth Center Mass).
The chapel continues to be a center of activities of all Salesian houses. Taking from the Eucharistic devotion of St. John Bosco, young people in Don Bosco are introduced to the Eucharist, led towards the Eucharist, and grows in the Eucharist.
After the Sunday Mass, the young people then held their monthly soiree, honoring the graduates and month birthday celebrants. During the soiree, the youth welcomed their new youth director in the person of Fr. Reynante Sabelita, SDB.
---