Sto. Niño Parish-Pasil Receives New Parish Priest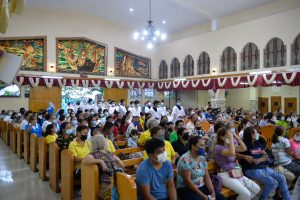 Last 14th of July, 2022, was an extraordinary day for the Parishioners of Sto. Niño Parish in Barangay Suba-Pasil as Fr. Jerome Mario Dublois, SDB, was installed as Parish Priest. He succeeded Fr. Lamberto Paradiang Jr., SDB, who served for 6 years. It was attended by the Parish Pastoral Council, representatives from the different mandated organizations of the Parish, local Barangay Officials, youth representatives, and the parishioners.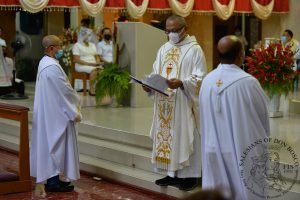 The evening Mass where the rite of installation took place was presided by Archbishop Jose Palma, DD, Archbishop of Cebu. After the Gospel reading Fr. Fidel Orendain, SDB, Provincial Superior of FIS, read the appointment letter of the new Parish Priest. As Fr. Jerome prayed the Nicean Creed, the prayer of installation, together with him where the team of Pastors of Sto. Niño Parish – Fr. Reynaldo Garcia, SDB, and Fr. Cyril Cardinal, SDB, with the Parish Pastoral Council who stood as representatives of the faithful. A round of applause erupted among the attendees as a sign of their acceptance of the new Parish Priest.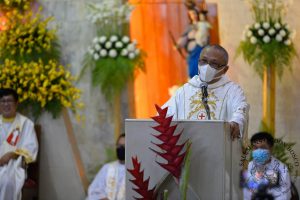 Before the Holy Mass ended Fr. Lamberto gave a speech where he personally offered his thanksgiving to the parishioners of Sto. Niño Parish for 6 years of collaboration. In his turn Fr. Jerome also thanked everyone for accepting him as one of their own, promising to work with them as their Pastor.
In what has been a trademark of Suba-Pasil, the people brought what they can for the fellowship after the Mass that was attended by the different mandated groups and by the Archbishop.