Rich Man, Poor Man
Homily on the 26th Sunday in OT – 25 Sept 2022, Murcia, Negros Occidental
Around two weeks ago my Provincial Superior sent me to Ghana, West Africa to represent our province at the First Religious Profession of thirteen new Salesians, including our own candidate, Br Sunil, from Pakistan. While I was there I had the chance to celebrate Sunday Mass for our students and the people living around Don Bosco. It was there that I met a young man named Michael. Siya gid ang nagserve sa akon nga Misa (He was the one who served at my Mass). He was one of our trainees and the way he served the Mass impressed me so much, that after the Mass I couldn't help but have a casual conversation with him. After affirming him, I asked what his dream in life was. And after a serious thought he replied saying that at first he wanted to become a priest. But since they were very poor he thought of helping his family first. It was for that reason that he enrolled himself in the TVET program of Don Bosco so he could get a good job that will enable him to support his loved ones at home. He added that at the moment his dream was to be a world class soccer player, so he will be able to send more money at home. Hearing this I felt sad but also contented: sad because their poverty seems to prevent him from fulfilling his dream of becoming a priest; contented because at least he found his way to Don Bosco and has the determination to study and finish his training that will secure a brighter future for himself and his family.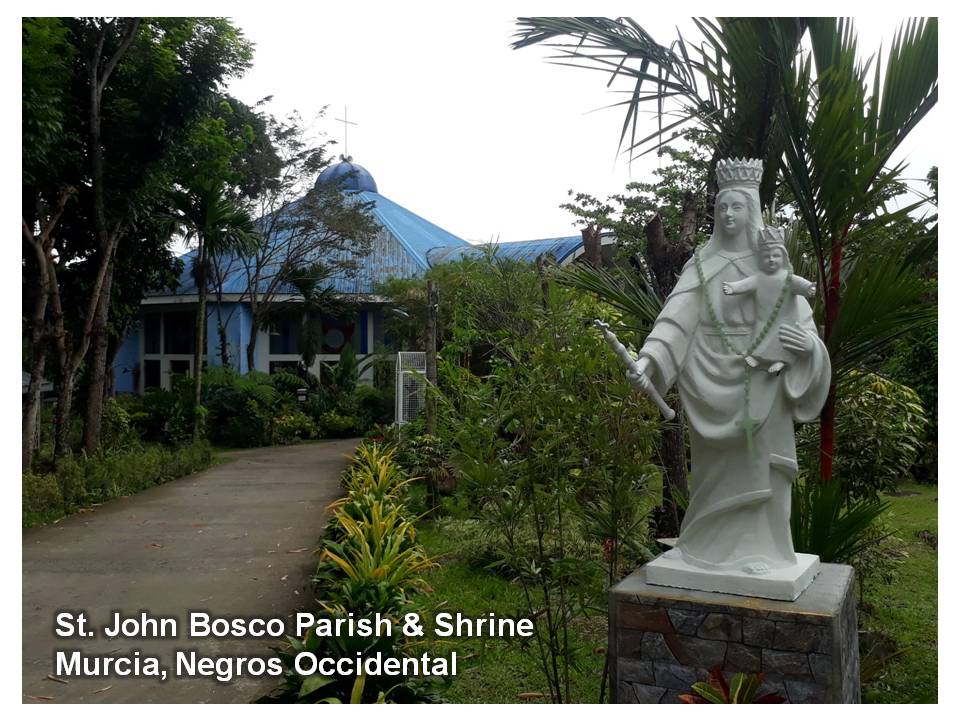 Brothers and sisters, we are now in the Twenty-Sixth Sunday in Ordinary Time. And I thank Fr Bong Borgueta, SDB, our beloved parish priest here at the Shrine of St John Bosco, for having invited me to celebrate this Sunday Mass with you. The gospel passage we have heard today is both disturbing and comforting. It is disturbing for the scandalously selfish rich, but comforting to the silently suffering poor. It is about Jesus narrating to the Pharisees the parable of the rich man and Lazarus.
Jesus must have been well aware of how many of the Pharisees lived like the filthy rich in contrast with the poor people who had to beg everyday to be able to eat. In the parable, Jesus described the rich man as one who dressed himself luxuriously and dined sumptuously everyday as if every meal was a big feast. Lazarus on the other hand was described by Jesus as one who waited everyday at the rich man's doorstep begging and hoping to get some leftover scraps that would usually be thrown to the dogs. The story ended with the rich man going to hell, while Lazarus going up to heaven.
From this story we can see clearly the stark contrast between the rich man and the poor man in the time of Jesus. And that contrast seemed to be quite acceptable to many, not only in their civil society but also in their religious life. For the Jews, riches and wealth were considered blessings from God who rewards those who faithfully keep his commandments. On the other hand poverty, sickness and early death were curses suffered by those who break God's law and live a life of sin. Kon ikaw manggaranon swerte gid ka (if you are rich you are lucky), you can study the Scriptures, esp. the Law and the Prophets and thus, know how to observe it faithfully in your life. Consequently more blessings will come to your life. Pero kon ikaw pigado waay ka gid sing paglaum (if you are poor you are hopeless). You cannot study like the rich. And so you will remain ignorant of God's law and of so many other things that will enable you to live a good life in accord with God's will.
Jesus, however, reverses that belief and corrects that wrong mentality today. In the story he narrated it was poor Lazarus who surprisingly went to heaven where Abraham was, while the rich man found himself tormented in the fires of hell. Jesus' teaching through this parable was entirely new. In God's Kingdom the real joy and eternal blessings are actually awarded not to the scandalously selfish rich but to the humble and silently suffering poor of Yahweh. According to Jesus the new standard of morality and holiness no longer rests on one's material wealth as the Jews used to believe, but rather on one's spirit of poverty and his capacity to trust solely in God and thus become a blessing to others. The poorer you are, the greater will be your trust in God's providence. Isn't this truly disturbing at the same time that it is consoling?
The good news is that Jesus himself chose to be poor even though all the earth and the entire universe belonged to him. He was born poor, lived poor and would die poor in order that we might become rich by God's infinite love, mercy and compassion. However, it is not as though all the rich people are bad. In fact a good number of them are good and holy. I have known and met several rich people who constantly acknowledge God's goodness behind their material wealth in life; and they consistently share their blessings to the less fortunate people of society. And so I guess these are the truly rich & wealthy in the eyes of God, for they have become rich not only materially but also spiritually. And I believe that when they die they can be the next candidates for canonization as saints in heaven.
Therefore, let us always keep in mind, the richer you are, the greater will be your capacity (and responsibility) to be a blessing to others. I have witnessed this many times in my ministry as a Salesian priest. Those who have been graced by God with material blessings have frequently become a big blessing to the poor who are helpless and hopeless.
Let me give you some examples. Here in Negros, Victorias Milling Company (VMC) has been allowing Don Bosco to use for free a big part of their property for the education and training of youth, mostly children of the company's workers and employees. In Cebu, Banco de Oro or BDO is sponsoring the construction of a new building in Don Bosco TVET Center Balamban, so that many more young people who are poor and marginalized may benefit from our technical-vocational skills training program. Apart from the building, they are sponsoring also the purchase of tools and equipment plus the three-year salary of our instructors. What is most amazing is that the money they are spending for this charitable project comes from the generosity of their employees who are willing to share their blessings to the poor.
Lastly, in Don Bosco Formation Center, Cebu, many of our aspirants come from financially challenged families who cannot pay the modest school fees and seminary board & lodging. But through the generosity of those who have been materially blessed by God, they are able to enrol in our formation program and eventually become Salesian priests and brothers, dedicated to God and working for poor youth. (Some of them are in fact here with us coming all the way from Talisay City in Cebu. Later after the Mass they will give a vocation talk to the youth of this parish.)
So, whether you are rich or poor, you have the privileged chance of going up to heaven just as long as you give your full trust in God, and strive to be a blessing to others in every way you can, especially to the poor and the marginalized.
May this Eucharist enlighten us and empower us to keep on following Jesus in his selfless generosity to the poor so that one day we may experience the infinite wealth of God's eternal blessings in heaven. GiGsss!
Disclaimer: This section of the website is a personal creative writing of the author and does not necessarily reflect the official views, opinion, or policies of the Salesians of Don Bosco – Philippines South Province. For concerns on the content, style, and grammar of this piece, please contact us.